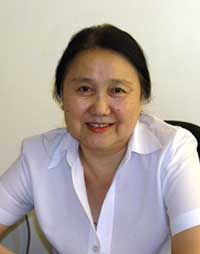 How to Cite
Batyreva, S. G. (2020). Mongolia in the Art of Kalmykia of the 1980s and 1990s: Based on the Materials of Art Exhibitions . Heritage of Centuries, (3), 127-140. https://doi.org/10.36343/SB.2020.23.3.010
Section
Museion: Exhibitions, Funds, Collections
Mongolia in the Art of Kalmykia of the 1980s and 1990s: Based on the Materials of Art Exhibitions.
© Batyreva Svetlana G.

Dr. Sci. (Fine and Applied Art and Architecture), Leading Researcher, Kalmyk Scientific Center of the Russian Academy of Sciences, Elista, Russian Federation

sargerel@mail.ru








Abstract
The aim of this study is a sociocultural analysis of the fine arts of Kalmykia in the last quarter of the 20th century as a historically conditioned phenomenon of artistic life and the establishment of the factors of its development. The Eurasian content of national art in the context of the artistic culture of Russia was analyzed within the framework of an interdisciplinary approach with a combination of methods of history and art history, cultural studies, philosophy, and museology. The research was carried out on the basis of materials from exhibitions of Kalmyk artists that took place in the 1980s and 1990s; the works of ethnographers, culturologists, and philosophers were also used. The author characterizes the works presented at the international exhibition "The Roads of Friendship. Moscow–Elista–Ulaanbaatar" (Moscow, July–August 1986). The author gives an extensive description and detailed analysis of the paintings by G. Rokchinsky, N. Bogorodskaya, V. Urgadulov, and determines the characteristic features of the exhibited works of A. Povaev and O. Kikeev, masters of landscape painting. The author considers the periodization of the development of Kalmyk art in the 1940s–1980s, characterizes the period of the 1980s as the time of transformations, and determines the role of heritage, ethnic originality, and ethnic culture in the development and formation of the school of fine arts in Kalmykia. The author thoroughly examines the activity of the Kalmyk Association of Artists "Dzungaria", describes the preconditions of its formation and the significance of the organization. The author also analyzes the expositions of exhibitions presented by the Kalmyk Association of Artists ("The Roads of Friendship. Moscow–Elista–Ulaanbaatar" and the anniversary exhibition of 1990), identifies the main thematic, philosophical, and worldview motives of the exhibited works with an emphasis on the Eurasian content of the works by Kalmyk artists and the integrity of the traditional heritage of the ethnos. The author comes to the conclusion that the appeal to the image of Mongolia in paintings and graphics activates the ethnic self-consciousness of the artists who created the fine arts of Kalmykia at the turn of the 21st century. A stabilizing and regulating factor in the development of the fine arts of Kalmykia in the period under study is the artistic heritage that implements cultural continuity. In the ethnic self-consciousness of Kalmyk artists, historical memory acts as a factor of creativity that reconstructs the cultural heritage and intensifies in the transition period at the turn of the century.
Keywords:
culture, art, artistic heritage, Mongolia, ethnic self-consciousness, sociocultural analysis